Page Outline
Registering a Domain
The Domains module supports registration of the following domains and many more:
NZ Domains: .nz, .ac.nz, .co.nz, .geek.nz, .gen.nz, .maori.nz, .net.nz, .org.nz, .school.nz
International Domains: .biz, .com, .co.uk, .info, .mobi, .net, .org, .us
Speciality Domains: Here is a list of supported domains
You can verify the current pricing of domains by clicking the Pricing option on the left hand side of the page below Domains. Otherwise you can check the domain pricing on the SiteHost website.
Steps to Register a Domain
Select the Domains module.
Click the Register button top/right.
Enter the domain you wish to register and select the TLD (.com / .co.nz etc) from the dropdown list. Double-check the spelling of the domain to ensure it is correct.
Click Add Selected Domains.

If the domain is already available, it will be automatically included into your list of selected domains.

If you want to register other domains at the same time repeat steps 3 & 4 as many times as required.
Set the Term or how long you want to register the domain for. By default this is set to 2 Years. For New Zealand domains you can choose a Term between 1 month and 10 years. For gTLD (.com, .net, .org etc) domains you can choose a term between 1 and 10 years. For UK domains you can choose 2/4/6/8/10 years.
Select the contacts associated with the domain/s. You must select the Registrant, Billing Contact and Technical Contact.

If there are no Domain Contacts available, or the domain is for a contact not in the list, you will need to create a new contact. After you have created the new contact just return to Domain Registration to continue the process.

If required, the domain can be set to be auto-renewed.
Click Next Step when you are done choosing the domain contact information.
Confirm all the details are correct and then proceed to confirm that "I have read and accept the Terms and Conditions for registering domain names" and click the Register Domain button.
You should receive an email confirming the domain purchase.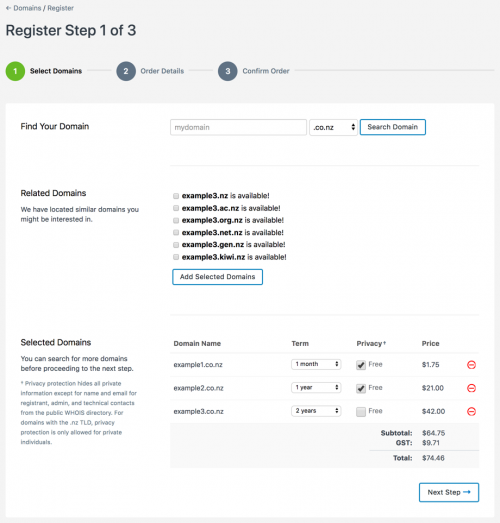 Domain Statuses
The current status of a domain will indicate if you can register the domain. Here is a list of the common domain statuses.
Available - you are free to register the domain via our Control Panel.
Conflicted - there are multiple domains which could potentially have rights to the new .nz version. This needs to be resolved and you need to go to the anyname.nz website to start this process.
Not Available - somebody else has already registered the domain, or the DNC has decided to not make the domain available to register for various reasons.
Can I get a discount for registering multiple domains?
Yes, SiteHost offers competitive tiered pricing for multiple domain registrations with no sign-up or access fees. Please see our Domains Pricing Page to see the levels of tiered pricing available.